Personal Errand Services
Corporate Concierge Services
Senior and Veteran Services
88errands adds shipping service – pickup and deliver to USPS, UPS, Fed-Ex.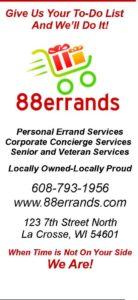 We Love What We Do!
We certainly do love what we do! At 88errands we provide an uncompromising commitment to customer service and satisfaction.
What do we do?
88errands tackles tasks and jobs that one does not have time, desire, or ability to complete in an efficient manner. Services are tailored to the needs of individuals, families, seniors, and businesses.
What can we do?
We match your task either to one of our staff members or, with your approval, outsource your task to a company or individual that we know will do an outstanding and timely job.
Services may include grocery shopping, reservations, and handling customer service issues on the personal side, and courier,
document delivery, and purchase/wrap/ship gifts on the corporate side.
See the 88errands Services page for complete information
What next?
Hiring a personal errand service for the first-time can be intimidating and even stressful. One needs to be certain that the service is reputable, trustworthy, and provides good value.
Let 88errands remove the intimidation factor by assuring new customers that we are all of the above. Our corporate policies are listed on the Policies/FAQ page. It states that you will be fully satisfied or the service is free, and we mean it.
Contact 88errands for a consultation today. Get rid of that pesky to-do list!
Locally Owned-Locally Proud
When Time is Not On Your Side We Are!